Intelligent Highways Outdoor Full HD NVR System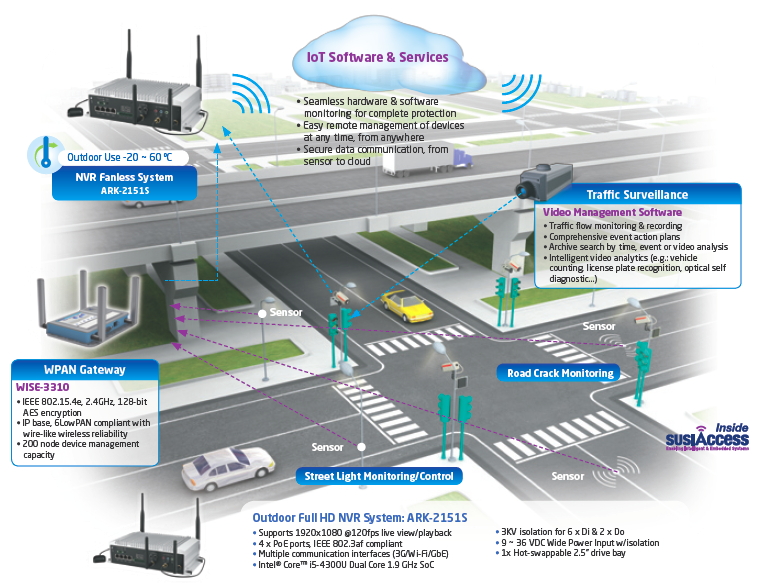 In the past, it was complicated to manage all the devices which were set up for real-time transportation monitoring; most devices came from different vendors and each had its own specific protocol. Once a problem occurred, the system integrator had to take a lot of time to indentify where problems were coming from, then solve them step by step. Advantech Intelligent highway management solutions are integrated total solutions that simplify application implementation.
Real-time Traffic Flow Monitoring
ARK-2151Sintelligent traffic management system can connect with mainstream Full-HD IP cameras to provide video analysis technologies. ARK-2151Scan monitor and calculate traffic flow in real-time and pass the information to the traffic control center through its multi-communication capability (wire or wireless). With integrated, intelligent video analytics software, the system can relieve traffic jams by traffic flow leveling. And the video record can be searched using date-time/event terms.
Complete Protection and Secure Data Communication
ARK-2151S can be connected with several sensors, such as surface crack sensors, light sensors, etc. With a surface crack sensor connected, the ARK-2151Scan gather road surface health monitoring data 24/7, allowing the traffic control center to plan prevention in advance. With a connected light sensor, ARK-2151Scan efficiently control road lighting depending on ambient luminance, providing safer driving and more efficient energy use. ARK-2151Shas built-in IoT software services: SUSIAccess provides seamless hardware & software monitoring for complete protection and secure data communication, preserving a reliable record, yet reducing bandwidth.