Wireless Data Collection for Remote Equipment Management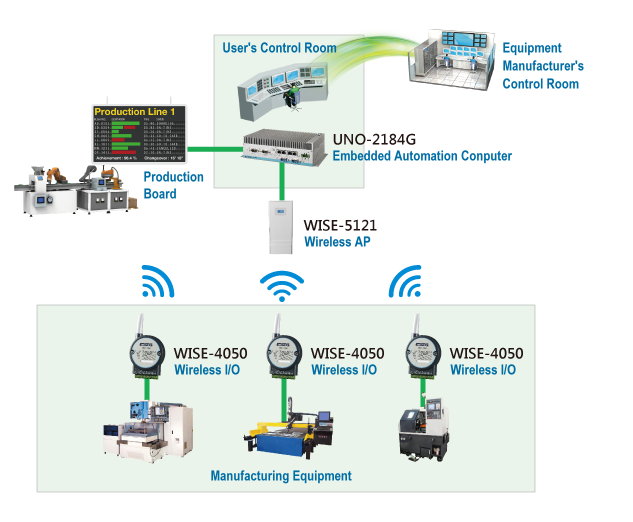 Introduction
Because the realization of Industry 4.0 has the potential to increase production efficiency, the manufacturing industry is not the only sector undergoing a transformation from traditional manufacturing to intelligent manufacturing. Equipment manufacturers are also facing demands to develop machines that not only automate processes but also facilitate intelligent monitoring and equipment management.
With the introduction of sensors and networking technology, relevant equipment data can be collected and integrated on a management platform. Factory managers can then use the monitored data to enhance their decision making and facilitate production optimization.
Meanwhile, equipment manufacturers can remotely monitor the machine status to provide customers with superior preventive maintenance.
Although there are many ways to add monitoring and management functions to machinery and equipment, the cost of implementing wired data acquisition devices that necessitate physical cables and a wired device network is far higher than expected. The most significant disadvantages of wired applications are the high implementation costs and lengthy installation time. Moreover, the usage environments vary between factories, with certain locations unable to support extra network cables. Additionally, factory owners are unlikely to interrupt operations or adjust production lines to enhance system functionality or rewire cables. All these issues increase the complexity and difficulty of upgrading to intelligent equipment.
In response to the above challenges, Advantech's WISE wireless data collection solution offers easy implementation and flexible expansion, while providing automatic retransmission and anti-noise interference to enhance the stability of wireless data transmissions. This solution enables equipment manufacturers to implement device monitoring and remote management applications rapidly and conveniently without concerns about data loss during transmissions.
System Requirements
The client was an equipment manufacturer located in Suzhou, China, that specializes in producing non-standard automation equipment for computer, consumer electronics, and communication product manufacturers, and counts many well-known 3C manufacturers, such as Asus Computer, Quanta Computer, and Hon Hai (Foxconn), as customers. In addition to delivering the machine capabilities required by manufacturers, after-sales maintenance and support are crucial to ensuring high customer satisfaction. Therefore, a few years ago, the company began equipping their machines with device status monitoring and predictive maintenance capabilities in order to provide superior maintenance services and conform to the Industry 4.0 trend.
Previously, device monitoring and management was conducted using a programmable logic controller, wired data acquisition devices, and factory-wide local area networks (LAN). However, because most machinery and equipment is designed to be marketed worldwide, the engineers, faced with complex environments and difficult wiring projects, had to spend substantial amounts of time conducting assessments and planning implementations. Additionally, the time-consuming cable installation process would cause further delays to the project completion. Accordingly, the company decided to switch to a wireless solution, which would be initially applied to its screwing machines and automatic test equipment (ATE).
In order to support previously wired applications, the new wireless solution needed to have the following features: compact hardware to avoid taking up too much space; widely used Wi-Fi communication technology to facilitate the rapid setup of an equipment networking system; sufficient capabilities to ensure transmission accuracy by preventing interference and data loss; and support for standard protocols to enable the equipment networking system to connect with the company's existing manufacturing execution system (MES) and enterprise resource planning (ERP) systems.
System Description
Advantech's WISE wireless data collection solution comprises WISE-4050 IoT wireless data acquisition modules, a WISE-5121 wireless base station (access point), and a UNO-2184G embedded industrial computer. This solution significantly reduces the costs and time required to install an equipment monitoring management system. A WISE-4050 data acquisition module was mounted on the machines to collect equipment information, such as power on/off, failure, operational duration, and production quantity data. All data is transmitted to the UNO-2184G industrial computer located in the client's factory via the WISE-5121 wireless access point for preliminary processing, before being transmitted to the centralized control center to facilitate remote monitoring and customized equipment maintenance programs for each customer. The factory can use the collected equipment data to display the machine production status on digital signage in real time, and import the data into the customer's MES/ERP systems to facilitate production scheduling and materials sourcing.
WISE-4050 is a palm-sized all-in-one wireless IoT module developed for data acquisition, processing, and publishing that supports various mount options (DIN rail, stack, and wall), allowing users to choose the most suitable space-saving installation configuration according to the on-site environment. Equipped with IEEE 802.11 b/g/n (2.4 GHz) Wi-Fi support, the module can be easily integrated with other wired or wireless Ethernet devices. To ensure stable wireless data transmissions, WISE-4050 also offers built-in flash memory and local logging with RTC timestamps. This provides an automatic retransmission mechanism that ensures data accuracy and effectively prevents data loss. Furthermore, users can set the minimum acceptable signal width via the digital filter function to eliminate environmental noise and resolve transmission interference to ensure effective wireless data collection for a variety of industries and markets. The data collected by WISE-4050 can also be imported into other software systems without conversion because the module supports the RESTful protocol.
WISE-5121 is a rugged industrial-grade micro base station that provides more stable and reliable network communication compared to standard commercial wireless devices, making it ideal for harsh environments, such as manufacturing factories. With support for Power over Ethernet (PoE) technology, WISE-5121 enables users to easily extend existing wired networks without having to configure the power cord, thereby accelerating wireless network deployment. Regarding UNO-2184G, the system's fanless, compact design and high-performance Intel® Core™ i7 processor make it the ideal embedded industrial computer for factory applications.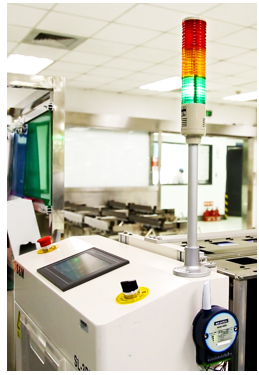 Project Implementation
WISE-4050 Wireless IoT module with 4-channel DI and 4-channel DO.
WISE-5121 Industrial-grade IEEE 802.11 b/g/n Wi-Fi access point/client.
UNO-2184G Industrial automation computer with an Intel® Core™ i7 processor, 4 x GbE, 2 x Mini PCIe, and DVI/DP/HDMI.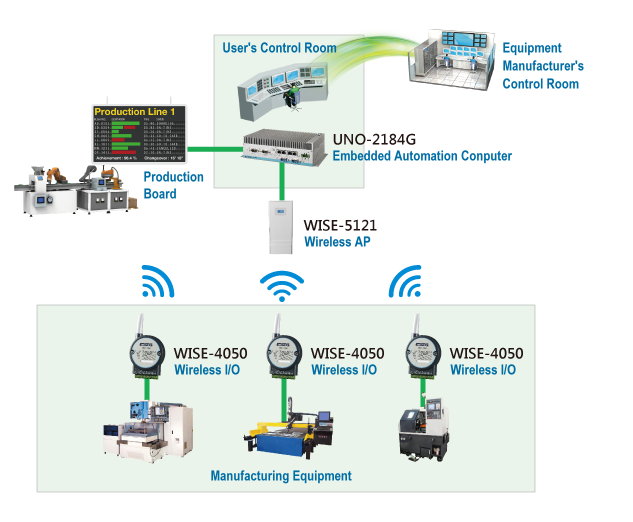 Conclusion
With the emergence of Industry 4.0, the entire manufacturing industry, including both upstream and downstream manufacturers, are keen to leverage the advantages of intelligent manufacturing, and the response speed determines enterprise success. Nonetheless, developers are often torn between implementing time-consuming wired configurations and using wireless connections with questionable stability.
However, with the provision of automatic retransmission functions, automatic noise filtering, and industrial-grade products, Advantech's WISE wireless data collection solution eliminates the challenge of hardware configuration concerns by ensuring easy installation and stable transmission. Because it allows customers to rapidly implement equipment monitoring and remote management applications, Advantech has sold dozens of units of its WISE wireless data collection solution in less than half a year. Furthermore, the equipment manufacturer plans to apply Advantech's wireless data collection solution to its other machines in the future.