IoT-Based Industrial Electroplating Factory- Enhanced Manufacturing Efficiency and Reduced Maintenance Costs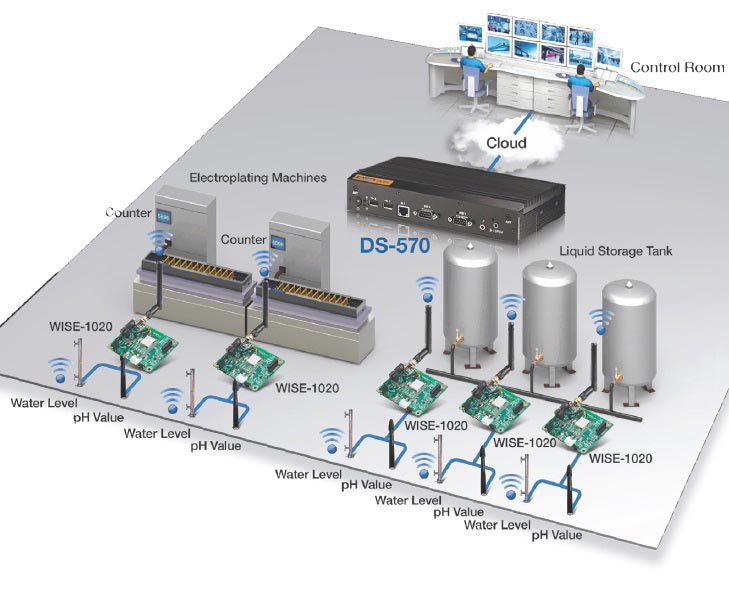 Because the working environment of electroplating factories is full of hazardous chemicals and volatile acids that are toxic and may corrode equipment, the provision of adequate protection for workers and factory equipment is essential.
Challenge
An electroplating factory located in China sought to improve its manufacturing processes by making them safer. The company planned to upgrade the existing traditional wired infrastructure to a wireless solution to protect vital factory equipment from chemical corrosion. Thus, they required a reliable data acquisition device with wireless connection stability and multiple sensor combination support.
Solution
The customer chose Advantech's WISE IoT Solution, which comprises embedded box PC (that serves as a gateway) integrated with a WPANcontrol module and 35 sets of WPAN sensor nodes – WISE-1020 (IEEE 802.15.4e mesh network) – for constructing a highly reliable wireless sensor network. With Advantech's DS-570 embedded box PC equipped with multi-display technology serving as a local control center, the WISE PaaS and WISE IoT devices, including the WPAN control module, sensor nodes, and gateway, were used to conduct remote monitoring and management.
Enhanced Manufacturing Efficiency
Traditionally, for an automatic electroplating line, the various sensory input signals and actuator output signals are directly connected to a programmable logic controller (PLC) via cables that are typically expensive and vulnerable to corrosion. The resulting losses in production can incur substantial cost. Advantech's reliable wireless IoT solution WISE-1020 prevents cable issues in automated electroplating lines. This solution ensures stable data transmissions in IEEE802.15.4e environments, resulting in increased manufacturing efficiency and reduced power usage.
50% Reduction in Maintenance Costs
To gather environmental data at the factory, one DS-570 fanless box PC featuring a WPAN module wirelessly connected to 35 sets of WISE-1020 nodes was installed. WISE-1020 nodes are designed with multiple interfaces (UART, AI, and DI ports) to support various sensor board types. Advantech collaborated with the customer to integrate all the WISE-1020 nodes, which were aimed at collecting data such as pH values, conductivity, water temperatures, and water levels. Following sensor integration, the local control center can be used to conveniently monitor and control all factory data. Advantech's WISE solution provides a MESH network with centralized dynamic network management capabilities that achieves 99.999% reliability.
Advantech Solutions
DS-570 Rich I/O Gateway
Embedded Intel® Celeron® N2930/ J1900 quad-core™ System-on-Chip
Multi-display output (supports up to four simultaneous displays)
Compact, fanless design • Features an internal mini-PCIe interface for high expandability
Operating temperature of 0°C ~ 70°C with extended temperature range, memory, and SSD
WISE-1020 Wireless IoT Node
High data reliability (99.999%) wireless MESH network
Easy installation and low maintenance costs
Extremely low power usage
Operating temperature of -40°C ~ 85°C
Supports multiple sensor combinations