Intelligent Parking System Powered by PC-based AGV Parking Robot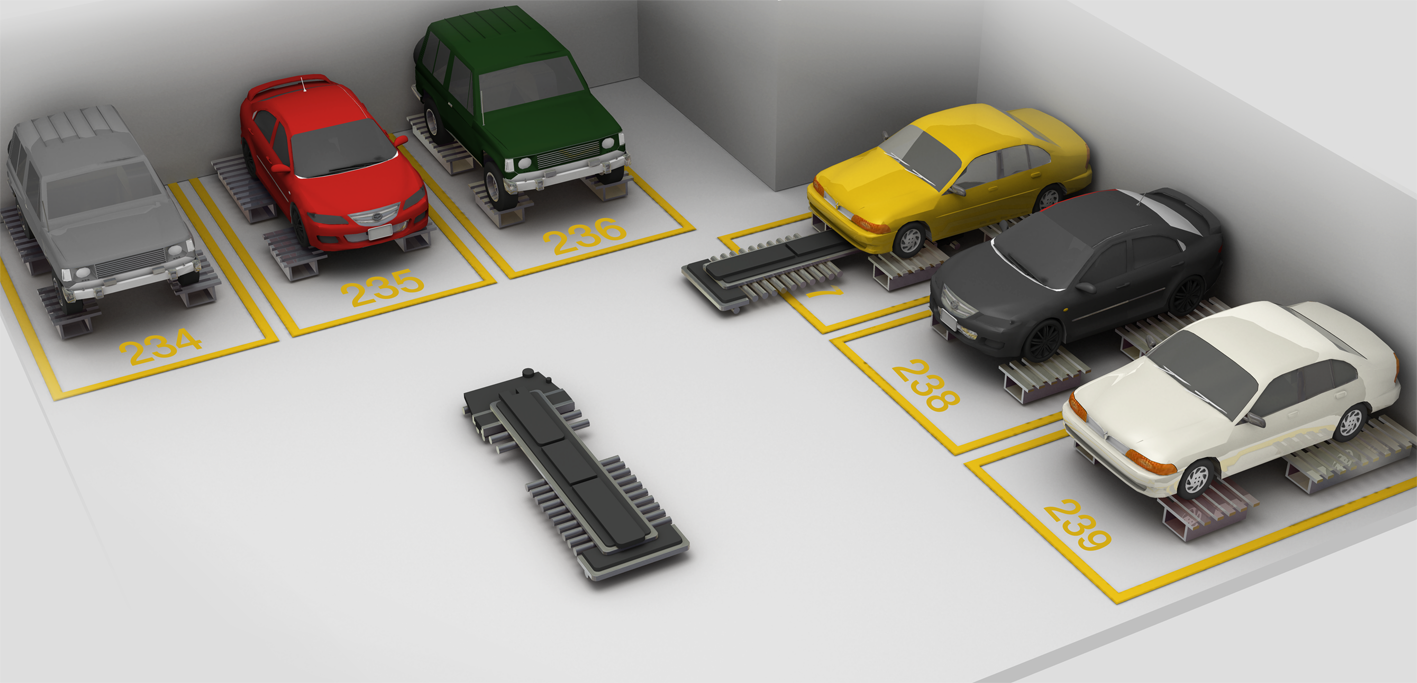 Introduction
Automated guided vehicle (AGVs) are most often used in industrial applications to transport materials around a manufacturing facility or warehouse. In today's era of the industrial Internet of Things, factories are not only undergoing a fourth industrial revolution, but AGVs are also shifting from automation toward intelligentization, with applications expanding from the factory to the parking lot. Using a Wi-Fi module, laser navigation, and comb-exchange technology, an AGV manufacturer has created an intelligent parking robot that can lift and park a car in just 120 seconds. To ensure the parking robot can accurately receive tasks from the centralized dispatch system and execute commands without collision or accident, a palm-sized, fanless, in-vehicle x86 industrial communication gateways was incorporated.
 In the past, AGVs were typically controlled and operated using a programmable logic controller (PLC). However, parking AGVs must perform multiple arithmetic operations to ensure comprehensive monitoring, for which PLCs offer inadequate speed and function. Advantech's PC-based embedded automation computer UNO-2272G equipped with two iDOOR modules (Wi-Fi communication and CANopen fieldbus protocol) not only fulfills the performance requirements of parking AGVs, but also supports componentized real-time operating systems (Windows Embedded Compact 7), customized drivers, and remote management and monitoring software (WISE-PaaS/RMM). These features provide AGV robots with additional capabilities, such as instruction issuing, travel track and position monitoring, system health diagnosis, and automatic scheduling.Furthermore, the UNO-2272G's lightweight and fanless design ensures that AGVs can be maneuvered smoothly.
System Requirement
Founded in 2014, Shenzhen Yeefung Robotics Technology has developed parking, logistics, and e-commerce AGVs for various application fields by leveraging the experience of their parent company Shenzhen Yee Fung Automation in developing and manufacturing 3D garage parking systems. Recently, the company revised its parking AGVs by replacing the original controller with a more cost-effective gateway in order to harness key technology and increase market penetration.
Featuring two guidance modes (laser and magnetic tack), Shenzhen Yeefung's new comb-type intelligent parking AGV can automatically move forward/backwards, turn left/right/around, spin, and perform plane translation and differential drive. However, because of the AGV body's limited dimensions (4548 mm length x 1773 mm width x 320 mm height), minimal space is available for essential hardware devices. Therefore, the AGV control gateway must be capable of performing complex movement calculations and sufficiently compact to be embedded into long plate vehicles while also featuring vibration, shock, and collision protection.
Additionally, the intelligent AGV parking system must be capable of managing over one hundred vehicles simultaneously. Thus, remote device monitoring software is required to ensure that the central control room remains aware of the real-time vehicle status. Furthermore, early warning capabilities that allow managers to arrange vehicle maintenance in advance are essential to ensure the continued dispatch of intelligent parking AGVs in the parking lot.
System Description
Featuring an Intel® Atom™ J1900 processor, wireless communication module (PCM-24S2WF), and CANbus module (PCM-26D2CA), Advantech's palm-sized communication gateway, UNO-2272G, is capable of not only receiving commands from the central dispatch system, but also processing data collected from the anti-collision sensor, 360-degree laser transmitter, and magnetic nail scanner to calculate the parking location and travel path, and then instructing parking AGVs to autonomously transport vehicles to specific parking spaces.
Regarding ruggedness and reliability, the system's lightweight aluminum enclosure enhances heat dissipation and protects the components and modules from damage due to water or dust ingress. The durable built-in mSATA solid-state hard drive offers increased read/write speeds. Furthermore, UNO-2272G has been certified according to IEC standards for shock and vibration tolerance to ensure continued and reliable operation in extreme environments.
Although the primary objective of this project was to supply hardware for an intelligent AGV parking system, Advantech also offered added value with its software, which included custom drivers for Wi-Fi and CANbus modules and remote device monitoring software.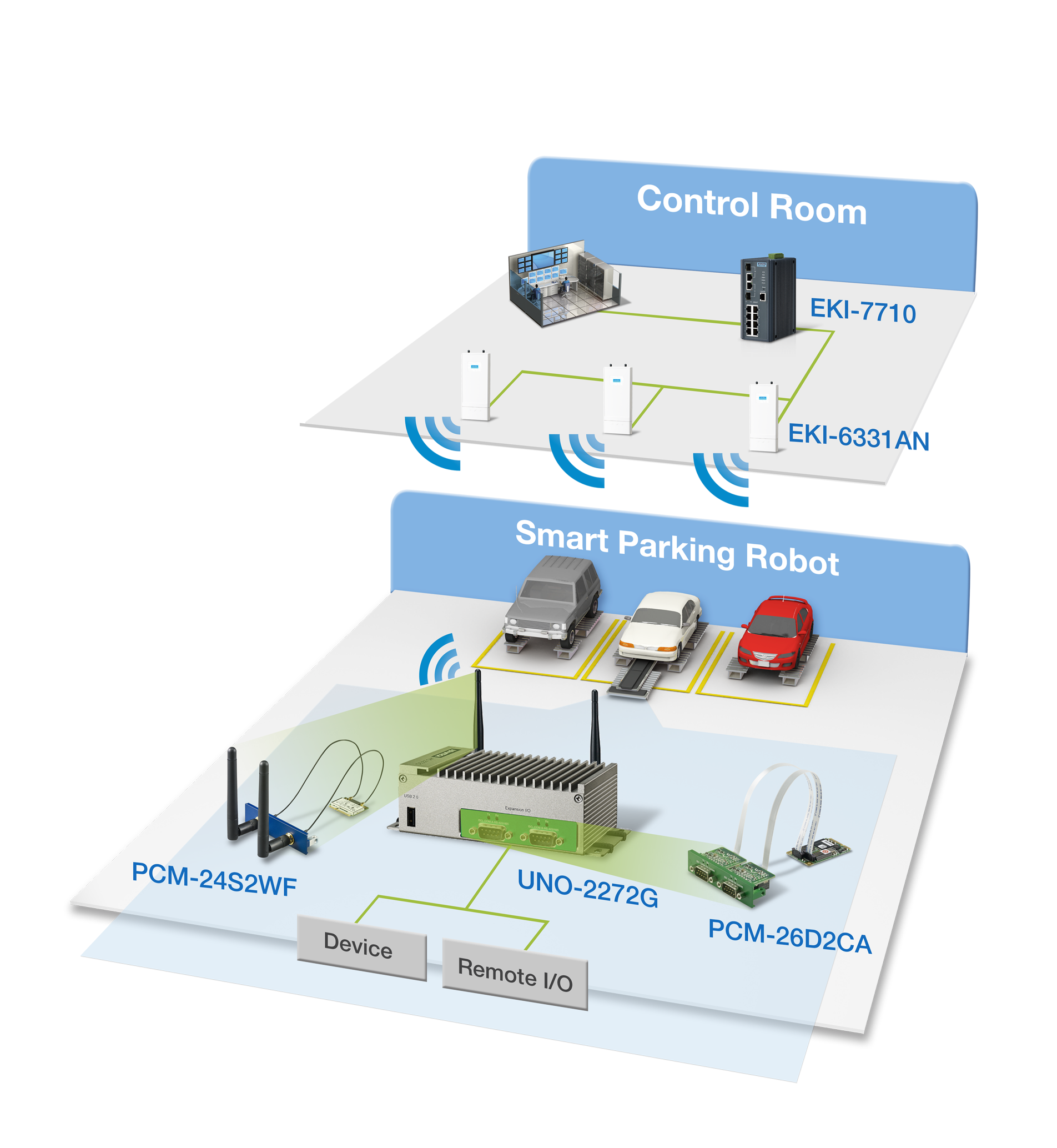 UNO-2272G: Intel® Atom™ J1900 processor, up to 2.41 GHz, with 2 GB of DDR3L memory
PCM-24S2WF: iDOOR module: Wi-Fi 802.11 a/b/g/n 2T2R w/ Bluetooth 4.0, half-size mPCIe, antennas
PCM-26D2CA: iDOOR module: 2-port isolated CANbus mPCIe, CANopen, DB9
Conclusion
Shenzhen Yeefung Robotics Technology's intelligent AGV parking robot featuring Advantech's UNO-2272G communication gateway can generate a massive 40% more parking spaces in congested areas due to its accuracy and help drivers to find a space and slots in just 120 seconds! Currently undergoing testing, Shenzhen Yeefung's new system is set for deployment at its Nanjing parking lot in 2017. Meanwhile, the company will continue to adopt Advantech products and develop AGVs for other application fields.