Building up Industry 4.0 Manufacturing with Seamless IoT Connection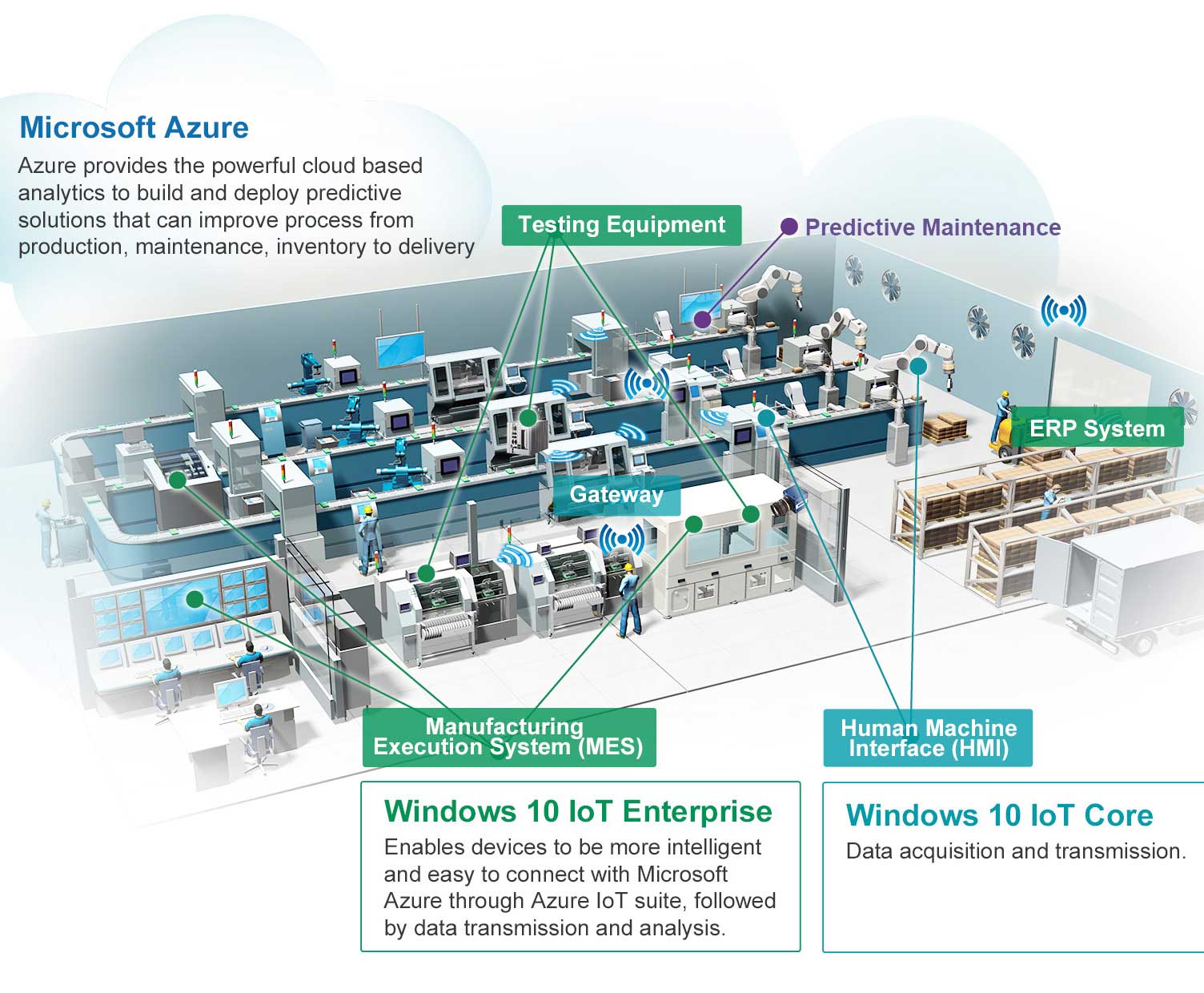 Introduction
The rise of Internet of Things (IoT) is elevating industry to a new horizon, where machines and equipment at a factory are linked to each other, sending data to cloud for analysis that can be used to improve productivity, reduce maintenance costs, and optimize factory operations. A new automation era called Industry 4.0, the Fourth Industrial Revolution, is transforming industry and bringing in new business opportunities.
In the past, factory automation has had less to do with ManufacturingExecution System (MES) or Enterprise Resource Planning (ERP) system. But in the current stage, IoT technology is able to hook all the equipment and devices to a network, enabling data flow and communication between and among machines, people, the cloud, and various information systems.
The IoT-based data flow also helps to build a production record system, which, for example, if connected with an MES system, will allow customers to see their probable shipping date when they start to place an order and look up the defect rate during production. Predictive data can be collected for developing preventive maintenance, optimal production, and proactive business strategies.
Application Requirements
At such an iFactory, on-site workers or technicians use mobile touch panels (pads) to access information and communicate with machines, back-end systems, and data in the cloud. An iFactory is virtually a combination of data acquisition, transmission, Human Machine Interfaces and Cloud Services.
Therefore, the first step in creating an iFactory is to deploy sensors and data acquisition modules to collect machinery and environmental data, and send that data to the cloud via one or more gateways (routers or IPC-based controllers). There must be seamless connections between equipment, sensors, DAQ modules, gateways, HMIs (touch panels), and the cloud-based management system, so as to realize clear communications between the "things" involved and achieve the production goals.
Solution
The IoT solution for iFactory is composed of Windows 10 IoT and Microsoft Azure cloud services, with seamless integration and device connectivity supported by Advantech.
Windows 10 IoT is the most versatile operating system Microsoft has invented to date, with enhancements in device communication. Windows 10 IoT provides a simple and unified platform that has been developed on the concept of "One Core, One Platform" and is supported by Universal App and Universal Driver. Developers can speed up development on applications and drivers for various devices. Designed for cloud connectivity, Windows 10 IoT enables devices to be more intelligent and easy to connect with Microsoft Azure through Azure IoT suite, followed by data transmission and analysis.
Microsoft Azure provides building blocks for cloud-based IoT applications. When users subscribe to Microsoft Azure cloud services, they are provided with a crucial tool called Azure IoT Hub to help them connect up devices and push data to the cloud. Azure also offers analytics tools, data storage space and various application resources for users to tailor their applications with great scalability.
For instance, iFactory developers or users may utilize Azure Machine Learning to train their predictive model for preventive maintenance based on machine operations data collected and accumulated over a set period of time. The data is used to train the model to learn about machine behaviors and determine normality and abnormality. When signs of abnormality appear, maintenance technicians will be alerted to implement repairs or component replacement so as to prevent shutdowns and associated financial loss.
Microsoft Azure runs the world's largest network of datacenters worldwide, ensuring fastest data access and high quality service to meet the needs of cross-border global enterprises which operate many facilities in many regions around the world.
Benefits
Establishes production records to provide a bird's eye view of products and shop floor operations
Develops insights based on intelligence extracted from big data analyses so as to improve production operations and business models
Enables preventive maintenance to reduce maintenance cost and avoid shutdown damages
Optimizes production flow and resource allocations so as to maximize throughput and equipment availability
 Improves customer service by providing transparent production information such as yield rate and order tracking information
Streamlines management from production, maintenance, and inventory, to delivery