Arm Mbed Cloud Remote Software Update for Smart Agriculture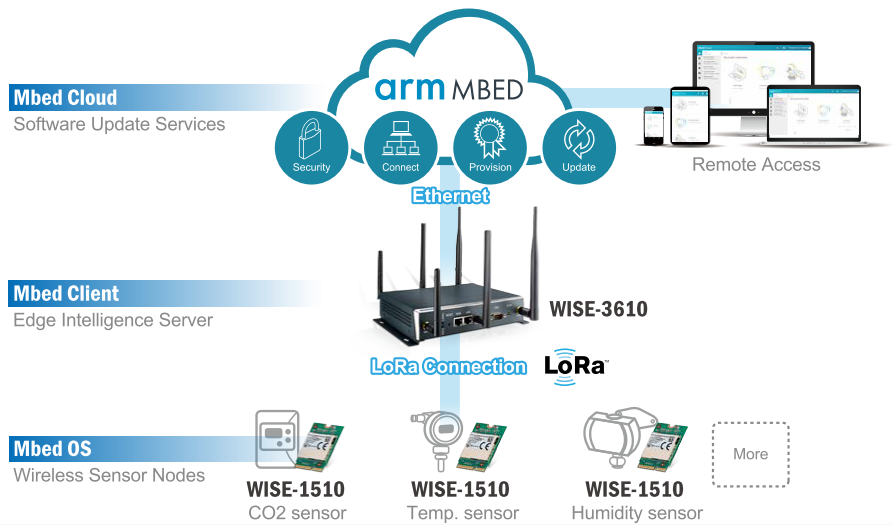 Introduction
As in the several oil crises that occurred in the 20th century that severely impacted the world economy and people's lives, potential food crises loom over the 21st century. Unstable and insufficient food supplies due to population growth, newly thriving economies, water shortages, and extreme weather pose challenges for the world to feed 9.6 billion by 2050, as the UN FAO predicts.
Smart Technologies to Increase Yields
Therefore, how to increase agricultural productivity while reducing production cost is crucial for increasing food supply and mitigating food prices. Smart sensing technologies have been increasingly applied to agriculture to increase productivity and reduce the need for traditional labor, making many farms more intelligent than ever.
Acquiring Data with Sensors and Producing Notifications
IoT applications for smart agriculture often require deployment of many sensors over a large geographical area—usually outdoors—that detect temperature, humidity, pH values, pollutants, or/and other parameters. The acquired data is sent to the cloud for data processing and analysis. The results are then displayed on the farmer's terminals, such as computers, smartphones, or other mobile devices. Parameter threshold values are usually set to produce alerts and alarms.
Remote Software Updates Needed for Calibration
Harsh outdoor conditions tend to undermine the precision of devices over time, so periodic calibrations and corrections are needed to ensure data accuracy. In the past, the work of sensor correction/calibration was done by on-site visits and manual checks. But now, with advancements in cloud and IoT technologies, this work can be done by firmware/software updates from the cloud, saving tremendous time and labor cost.
Arm Mbed Cloud Enables Remote Software Updates
All these challenges can be solved by Arm's Mbed Software Update solution, which enables easy remote software updates for large scale device deployments with end-to-end security. The software update solution is rendered in Arm Mbed Cloud services available in the Advantech WISE-PaaS Marketplace. Advantech customers who join the WISE-PaaS Alliance can access the online store to select and use just the solution they need.
Asian Pilot Plan Ushers in Farming Intelligence
An international agricultural technology company has joined with Advantech in initiating a pilot plan which will deploy intelligent farming systems on 1,500 paddy fields in four Asia-Pacific countries to implement remote monitoring of environmental and weather conditions in the fields. Sensors will be deployed to collect data on water levels, water temperature, atmospheric temperature and humidity, and watering will be automatically triggered. With wireless communication deployment and app development, farmers will be able to remotely watch their paddies and their crops via a dashboard on their computers or smartphones or any other mobile devices with browser support. If monitored conditions are judged to be favorable to pests, an alert warning will be aired to the farmer's personal device.
Application Requirements
A large scale Smart Farm application requires deployment of numerous sensors over a wide area, thus reduced costs for deployment, operation and maintenance, as well as longer product service life and better wireless communication coverage are all important factors to be considered.els.
Solution
For the Asia-Pacific smart farm project, Advantech proposed the deployment of Advantech WISE-1510s for sensor nodes and WISE-3610s for IoT gateways, together with the use of LoRa wireless, long-range communications and Arm Mbed Cloud services.
Easy and Efficient Arm Mbed Software Update
This Arm-based hard- and soft-ware solution will enable simplified device connections, device provisioning and device updates, with a trust and security mechanism built into the Arm chips. The Software Update services implemented from a cloud management platform—including firmware updates, OS updates and application updates—are especially valuable when IoT systems cover wide areas as they do on smart farms, which often need to recalibrate and correct sensors for more accurate sensing results.
Fail-safe Mode Secures Software Integrity
The Mbed Software Update service features end-to-end update orchestration, which allows managers to monitor the update process from the cloud. The software updates are implemented in Fail Safe mode, which protects software against accidental updates and also provides a rollback function to recover data in the event that an update happens to abort.
End-to-end Security Protects Software and Data
The unique Arm architecture Trust mechanism enforces trust certification on the device with the built-in chip method. This protects firmware confidentiality and secures sensitive data on the device, safeguarding users' and service providers' business intelligence.
Remote Software Updates Ensure Product Longevity
The Mbed Software Update brings cost benefits by eliminating manual practices and ensuring long product life, thus helping to reduce maintenance and operational costs of large IoT systems; this is especially fitting for intelligent agriculture applications. The proposed use of low power LoRa communication for small parcel data further enhances overall economic efficiency.
Advantech Hardware Pre-configured for Arm Mbed Cloud Services
Advantech's WISE-1510 sensor node and WISE-3610 gateway are built on Arm chips, and preconfigured to provide easy access to Arm's Mbed Cloud services, which system integrators or users can purchase in Advantech's WISE-PaaS Marketplace. Customers in this online cloud software store use our digital currency, "WISE-Points", to tailor their own IoT solutions. The Advantech-Arm eco-system partnership ensures seamless chip-to-cloud integration on both the hardware and software levels.
Benefits
Energy-saving and reliable LPWAN solution package reduces communication expenses
Remote software update eliminates the need for manual sensor calibrations and corrections, saving labor and maintenance costs and ensuring long product life
Smart farming reduces production cost while improving agricultural productivity